《キャサリン妃ソロ公務 ☆ the 1851 Trust》
this morning
ギャップイヤー中
ヨットで世界を回ったことのあるキャサリン妃
"Ben Ainslie Racing"に

よるサポートの
"

the 1851 Trust"
(海洋業界と若者の支援を目的とした団体

)
のロイヤルパトロンとなられて以来
3度目のご訪問

となった、
ポーツマス
既に

4

度の公務☆
この日は
2つのセーリングプロジェクトのオープン

to launch the 1851 Trust's two flagship sailing projects in partnership with UKSA and the Andrew Simpson Sailing Foundation
様々なバックグラウンドの若者たち

に
スポーツを通して希望や勇気づけるべく
プロジェクトにかかわる人達とお会いになったり、
新たな施設
"Tech Deck Education Centre"
の公式オープン
チームの
"America's Cup boats"の

構造や現在進行中の作業を知ることができ
スポーツの分野における
革新やテクノロジーについても
学ぶことができる施設
科学、テクノロジー、数学や、
America's Cup challengeの

エンジニアリング
にフォーカスしたワークショップ
#STEMCREW digital workshops
に参加した
地元の子供たちともお会いになった。
そして、この日ついに
海での実地体験も!!
舵取りもされたらしい。
The Duchess also had the opportunity to take to the seas, and changed into a sailing outfit to join Sir Ben Ainslie on the Americas Cup test boat, where she took control, steering the boat out on the race course for the upcoming Americas Cup world series even in July
そしてFASHION~~!!!
これまでに2度着用されている
《アレキサンダー・マックイーン》
さすがお上手!!
そして、そのあと
セーリング用ユニフォームに着替え
帰りにもう一度
ニット+スキニー+スニーカーの全身黒
ブラウス《Alexander McQueen》 "
Military Silk Georgette Blouse

"
Pre-Fall 2011 Collection

(=2011年8月19日@バーミンガム、2014年6月18日@
Bletchley Park

)
$1,355
スカート《
Alexander McQueen

》
"Embellished Wool Crepe Skirt"
Pre-Fall 2011 Collection
(=2011年8月19日@バーミンガム、2014年6月18日@
Bletchley Park

)
$995
サファイア&ダイアモンドピアス《》
クラッチ《
Jaeger

》
"Kate" quilted clutch (=2012年7月@ウィンブルドン、2012年6月13日@ノッティンガム)
£150
ネイビースエード靴《
Rupert Sanderson
》 "
Malory

"
"Part 2"
過去の"

the 1851 Trust" 公務でのSTYLE☆
June 10, 2014
@ National Maritime Museum in Greenwich
in London
for the Ben Ainslie America's Cup Launch
in February 2015
visited the HQ of Ben Ainslie Racing ahead of its opening,
while she was pregnant with Princess Charlotte
2015年7月
visited the team technical areas at the Royal Navy Historic Dockyard, Portsmouth,
during a visit on the second day of the opening leg of the America's Cup World Series
-------------------------------------
キャサリン妃到着~!
opened the 1851 Trust Visitor Centre, unveiling a mural she had contributed to on her previous visit in February 2015
Members of the Land Rover BAR team explained new technologies to the royal visitor
joined year seven students from the nearby St Edmund's school who were taking part in the #STEMCREW digital workshop activity on i-Pads
While chatting to young people, Kate was keen to know if they were interested in sailing and what their experiences were
chatted with school children and members of the Land Rover BAR team who are challenging for the 2017 America's Cup
a pupil at St Edmund's Catholic School, Portsmouth, demonstrates a power grinding machine, which trains sailors to use the grinder that pushes the wing in and generates power for the boat
tests out some of the new technology at Sir Ben Ainslie's racing HQ
puts a microphone to Kate's head
*********************
------------------------------------
"Part 2"
動画♪
— Kensington Palace (@KensingtonRoyal) 2016年5月25日
***************************
なんかキュン♡とこない?
キャサリンさん、従順な感じ
って小悪魔w
一旦心許すと
めちゃ仲良くするタイプだね。
The Duchess of Cambridge (second right) on a 40 mph race around the Solent
終了後
ジョージ王子&シャーロット王女
7月のトーナメントで
***********************
OUTFIT

"Part 2"
NEW ジャケット《
Henri Lloyd》 "the Land Rover BAR Team Elite Jacket" in
slate blue

£395
waterproof, windproof and breathable
'From the new Land Rover BAR collection the GORETEX Team Elite Jacket is a great technical jacket, designed in new Land Rover BAR colours and featuring the iconic sponsor logos. Based on the award winning Elite jacket this style is no different; built to withstand some of the worst conditions both on water and off. The Elite range from Henri Lloyd is the lightest and most breathable without compromise, being 30% lighter than its best in class predecessors, as well as 20% more breathable. Slide Glide Technology helps reduce inter-layer binding when used in conjunction with the ELITE Therm Mid Layer, therefore increasing comfort for the wearer.'
new running shoes are the Adidas Pure Boost X Shoes in Core Black/Shock Green (with thanks to Family Cambridge). The £90 shoes are "built for nonstop motion. Made for runners with a neutral gait, a snug, sock-like upper delivers nonrestrictive arch support so you can move with instinct, while a boost™ midsole invigorates every step with light, fast energy. An optimal fit plus dynamic cushioning means you're ready for any challenge."
--------------------------------------------

"Part 3"
*******************
OUTFIT
"Part 3"
NEW ケーブルニット《
J CREW

》 
《
J CREW

》
 

"CAMBRIDGE CABLE CREWNECK BLACK SWEATER"
 

£88
Wool/nylon/viscose in a 7-gauge knit.
スキニー《》
スニーカー
《Adidas》 "
Pure Boost X Shoes in Core Black/Shock Green" 
£90
----------------------------------
sent a message of support to attendees at ICPCN (International Children's Palliative Care Network) conference yesterday. As you can see, a new official photo of Kate was used at the event. Kate's wearing a beige or cream-coloured jacket; it's possible the photo was taken outside Kensington Palace, and I'm sure we'll see a high-res version of the picture in the not-too-distant future.
The second annual conference in Beunos Aires brings together people from around the world and from all professions who work with children experiencing life-threatening and life-limiting conditions, and encourages the exchange of knowledge, new and innovative ideas, research and experiences between them.
As patron of East Anglia's Children's Hospices, Kate has learned a great deal about palliative care and it's great to see her supporting other organisations working in the area.
----------------------------------------
ゲストの一人
Barbara Wilkins(82才)と
Queen said that she asks her grandchildren to show her how to use her computer. Her Majesty revealed that she often relies on the younger royals for help, but disapproved of them spending too much time on their phones
"The Queen was talking to me about young children and asked me if they had changed a lot," said Barbara. "I said they are all digital these days and I said that instead of sitting at the dining room table having conversations like I did with my children they are all sitting on the settee with their teas on their knees watching television."
Barbara added: "She agreed. She said her grandchildren did things for her digitally but she didn't like them to be on their phones and computers all the time. She says they need social skills. She was like any other grandmother really.
"She didn't say exactly what her grandchildren did for her but she said she gets them to help her out and to do things for her. I have to say she has fantastic communication skills being able to talk to anybody about anything at any time."
This isn't the first time that the Queen has bemoaned the fact that the youth of today are glued to their devices. She even finds it "disconcerting" and "strange" when she is faced with a sea of people

trying to take selfies

with her during an engagement.
US ambassador Matthew Barzun had a "nice chat" with Her Majesty, who confided in him about modern technology.
The implication was that the monarch considered it "bad manners" for wellwishers to be looking at a screen when she made her public appearances. "She was essentially saying: 'I miss eye contact'," Matthew told Tatler magazine.
テキストの送り方&受け取り方を教えて差し上げたらしい。
-----------------------------------------
《

またまたバッキンガムパレスに侵入者!!

》
5 / 18 (水)
またまた起こった。
バッキンガムパレスに、侵入者が!!

Dennis Hennessy of Wembley, London 41才
なんとこの人
1992年にホームレスを殺害したことで
有罪判決を受けたという。
金曜日に
at Westminster Magistrates' Court
出廷するまで
4か月拘留されていたが、
判決後、
一度身柄釈放されていたってこと??
この人も
壁をよじ登ってパレス敷地内に侵入
警報が鳴り
この男の姿が目撃されたそうだが、
その際、
「景色が美しくて散歩してた」とか言ったらしい。
事なきを得たからいいものの、、、、
このとき
女王ご夫妻

も
パレスにご在宅、というか就寝中。、
翌朝、報告がなされたらしい。
1982

年
Michael Fagan
エリザベス女王のベッドに侵入したという衝撃的な事件

だった。
2013年
壁をよじ登って、
"the State Rooms" に侵入してた。
この事件後
大々的

に

セキュリティシステムが見直された。
遅いけど・・・・
そして今年再び・・・・・
2016年
実際行くと毎回思う、
近っ
入れそう・・・ダイジョブ??
それにしてもコワい。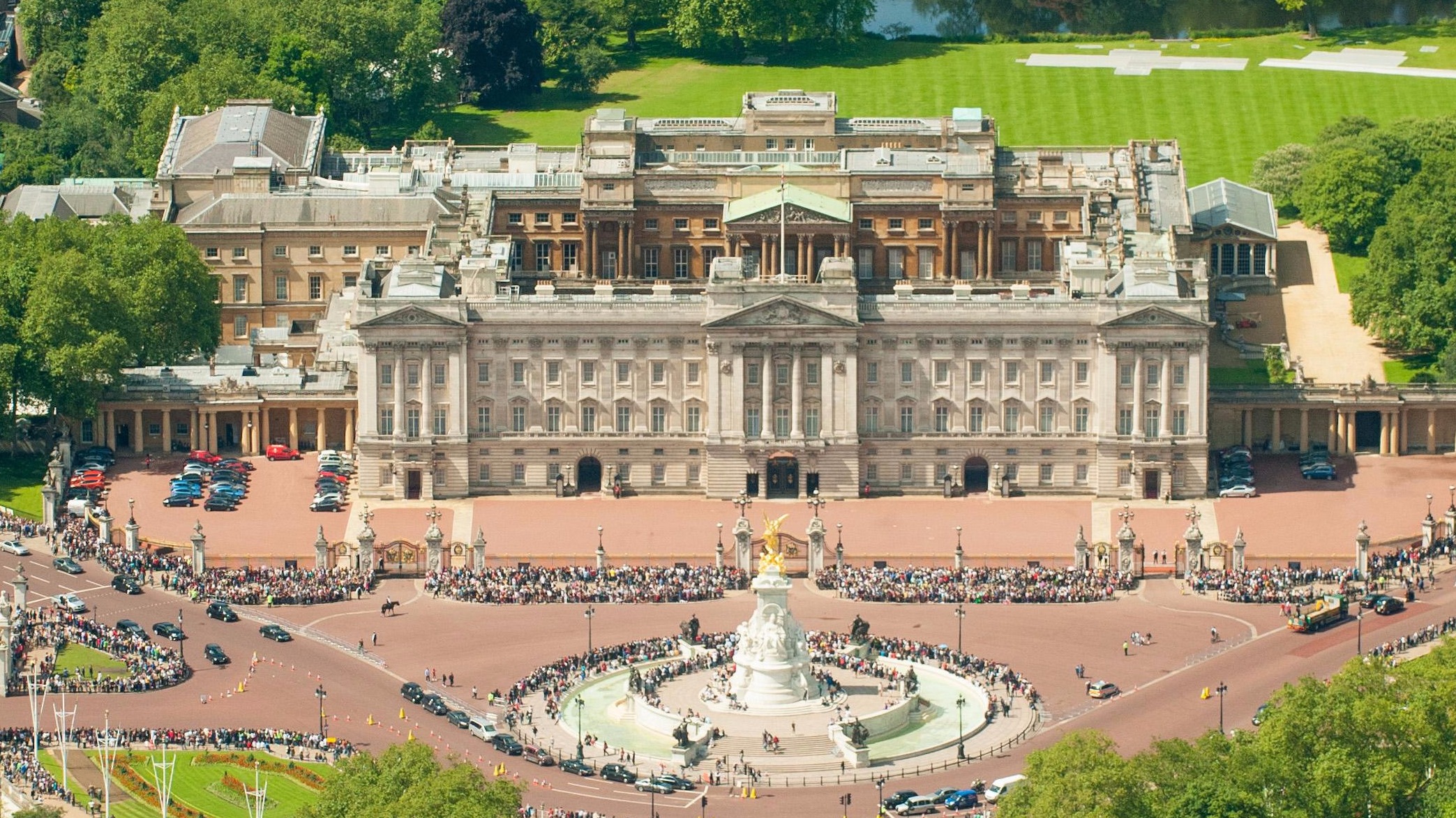 ----------------------------------------
《チャールズ皇太子、ウィリアム王子 ☆

天才的

スピーチ》
2014年7月
以前もUPしたかも?、、、ですが
感動したのでまたUP
"the British Sub-Aqua Club"
の代表として
チャールズ皇太子からウィリアム王子へと
引き継がれた際のスピーチ
いまいち??なところもあるのだが、、、
誰か訳して、完ぺきに。。
チャールズ皇太子といい、
息子ウィリアム王子といい
慣れとはいえ、本当にスピーチがうまい!!!
こんな風にフレキシブルに
ジョークを入れたりも、、余裕。
Royalスピーチが
こんなに笑いに包まれるなんて、
とにかく感動♡
Prince Charles has joked with Prince William about his "buff credentials", after earlier being baffled by being described as "buff" himself. The Prince of Wales was speaking as he handed over the presidency of the British Sub-Aqua Club in London to his son
動画♪
--------------------------------------
《Cruise Beckham ♪ キュートな才能発

掘

!》
パパ、ベッカムがインスタでUP
お洒落プリンセス ハーパーちゃん
イケメン優しき長男

ブルックリン
ママソックリでモデル

ロメオ
そんな中で唯一存在が薄かった、クルズ君
優しそう~~なお顔がきゅんとはきてたが、
この度

彼の隠れた才能が

発見された!!
これはスゴイ♪
愛に包まれ

て

、
自由に育

つ

と
みな才能豊かに成長するのだねえ~
しみじみ

--------------------------------------

『幸せを引き寄せる キャサリン妃着こなしルール』

(幻冬舎)
--------------------------------------

『25ans オンラインコラム』

ほぼ毎日書いてます(*^_^*) ♥♥♥


http://www.25ans.jp/princess/catherine

お問い合わせ・お仕事の件
こちらから、お願い致します☆
↓↓
dressagem@icloud.com